I am very proud to announce that my new course, Upgrading Your Farm to SharePoint 2016, is now available on Pluralsight.com!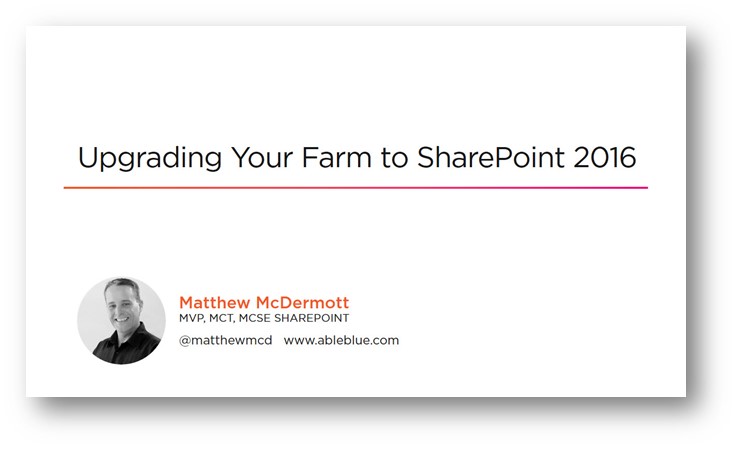 The class was built based on my experience and that of others with whom I collaborated to ensure that we had a broad range of coverage for the MANY issues we have all seen in the field. Based on that experience, this class is about 60% prevention, auditing and fixing issues before you attempt to upgrade. I always prefer to resolve issues in the current environment before we go into the new environment. In the auditing modules I also show a trick for documenting your farm with Visio.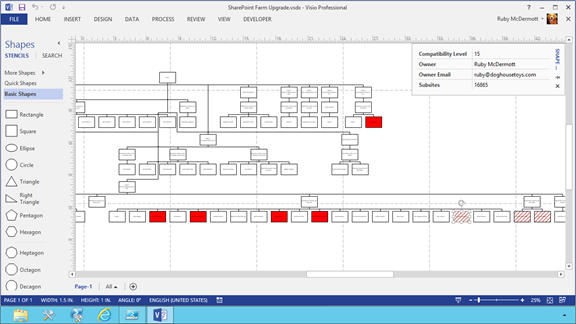 In the course we do cover the basics, like content upgrade, but I am proudest of the modules on upgrading Service Applications (particularly the Search Service Application and a "gotcha" I discovered along the way). This course covers many upgrade topics I have not seen anywhere else to this level of detail. For example, upgrading the App Management Service and Access Services (thanks to Neil Hodgkinson's most excellent DR article) and reconnecting the workflow farm (thanks Spence Harbar).
A lot of folks helped directly and indirectly, but I really want to thank Neil Hodgkinson for his attention to detail and for being so very patient with the many questions I threw his way. I honestly could not have delivered a course of this quality without his assistance. Spence Harbar kept me honest and helped me hone the content to what it is today. Both Neil and Spence assisted me with "problem ideas" to the point that I built a set of "screw up my farm" scripts to create the many problems that we sought to solve in the course. My great friend and colleague, Matt Schoen of CGBot, contributed many of the scripts that I demonstrate for detecting InfoPath, custom workflow assemblies and external dependencies. I updated the scripts from Phil Childs at http://get-spscripts.com to resolve the missing web parts, assemblies, and set up files in a supported way. Finally, Trevor Seward (http://thesharepointfarm.com) helped me with my random questions at all hours of the day and night…do you sleep? I am certain that there are others that helped, if I forgot you let me know.
Finally, this course was my idea and the initial structure was my own, but with the help of so many other folks, we delivered a great course. It really goes beyond "upgrade" and serves as an example of how to maintain your farm in a ready for upgrade state. Any errors and omissions are purely my own.
I am going to blog the main points that I learned along the way. Starting with Three Approaches to Auditing a SharePoint Farm.