Years ago I worked for a captivating and motivational man that believed in the BHAG. The Big Hairy Audacious Goal. He did not approach these goals timidly, the way our competitors played safe, waiting and watching others to make the first move. No. He took the initiative, he lead from the front, he set the standard and ultimately was copied by others who claimed to have the same vision. This idea of a BHAG really stuck with me. I am a goal setter, I always have been, small and large, short term and long, I try to take the time to envision where I want to be in the future and then map out a plan to get there. From little goals like "I am going to run in an Official 5k Race" to larger goals like "We are going to produce the best SharePoint Administrator training available on the market".
Almost a year ago (actually a year ago last week), I sat with folks who I think are the best teachers in the SharePoint community and we envisioned a SharePoint Administration Class that would teach the attendees what they actually needed to know to manage a modern SharePoint farm. This class was vast in scope and unlike any class offered. Back then the thought of demonstrating all of the concepts, servers, connections and complexity was daunting, not to mention teaching it and offering hands on labs that the student would complete. We left the conversation with a long to-do list. We left knowing it was a big job, but we all felt it "could be done".
Fast forward to November 2015 when we had a second chance to put our heads together on this topic. This time we dragged along a few additional folks from Microsoft who were invested in knowing that the third-party training was going to "teach what folks needed to know". The advantage that we have in the world removed from Microsoft is we are free to teach the topics as they are in the real world. (Which sometimes means "warts and all".) So we put our heads together and developed an idea for a class that was 5 days in length and was focused on the SharePoint Administrator (rather than the Office 365 Administrator). This person is still responsible for an on premises farm (or farms) but needs the skills and knowledge to perform the tasks necessary in SharePoint 2016 (and SharePoint 2013) for everything from the SharePoint fundamentals of Installation and Configuration to managing Service Applications, like Search, User Profiles, Secure Store and BCS. They need to understand more recent features as well, like Min Role, setting up an App Domain, configuring User Profile Synchronization with MIM, and Office Online Server. We need the students to learn how to configure Hybrid options for Office 365. We need labs that allow the student to get hands on experience with configuring Azure AD Connect, Hybrid OneDrive and Sites and definitely Hybrid Search using the Cloud Search Service Application. We'd do all this and sprinkle in a healthy dose of PowerShell, SQL Server, more PowerShell and of course war stories and real-world experience that make the class so very much fun to teach.
We put it all on the white board. We mapped it to a 5-day curriculum.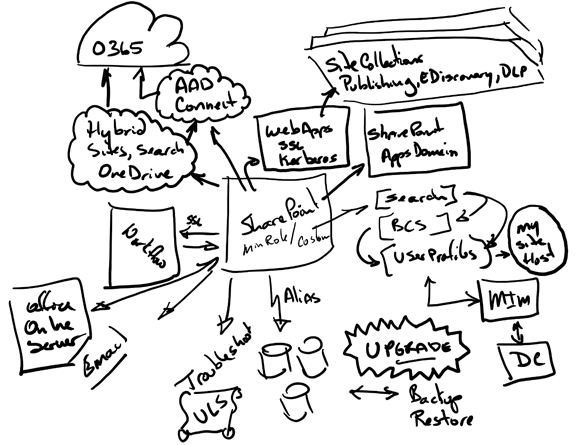 So, I am so very happy to announce that after a year of planning and work, our Big Harry Audacious Goal of teaching SharePoint Administrators what they need to know to succeed and thrive not only with SharePoint 2016 but in the larger scope of Office 365 is going to be tested the week of May 2nd in Tampa, FL. I will be teaching the first run of our SharePoint 2016 Administrator's Survival Camp.
What's Different?
Of course this brings up the question, "What's Different? You guys offer a SharePoint 2013 Class, too, right?" Yes, yes we do. That class is EXCELLENT! (I know this because my students tell me so! In fact, they tell me this a year after taking the class.) The biggest difference is that we have changed the pace of the delivery to enable us to offer the extended lectures and labs that focus on the newer features available in SharePoint 2016 and Office 365 Hybrid. We still teach SharePoint Core Skills like Web Applications and Site Collections. We still teach Service Applications like Search and User Profiles, but we have compressed the Service Apps that have not changed significantly (like BCS, Managed Metadata and Secure Store) into a single lecture and lab. For folks who have taken our previous classes there is some overlap, but there is new content in every Lecture and Lab. The fact is, we have listened to our students about what they wanted to learn and what they liked and we have gotten better at teaching SharePoint Administrators what they need to know.
The Future
I hope you can tell that I am very excited about the future of SharePoint and Office 365. I did not create this class on my own. I had help from very talented (and patient) friends who helped me craft the class, paring it down from a month of content to a very busy week! I am thrilled that we are weeks away from delivering on a goal over a year in the making. Please join me for what I think is going to be the gold standard for SharePoint Administrator training. If you join me in person in Tampa, we'll be hosting a SharePint at Cigar City Brewing Company on Tuesday night, May 3rd, drinks are on me.
Oh, I am running that 5K on Sunday May 1st before I fly to Tampa, wish me luck!