My new course, "SharePoint 2013 Search Back to Front" just went live yesterday. I am so excited to have completed this project with the great team at Pluralsight. Their attention to detail and rigorous review process helped me make the class even better.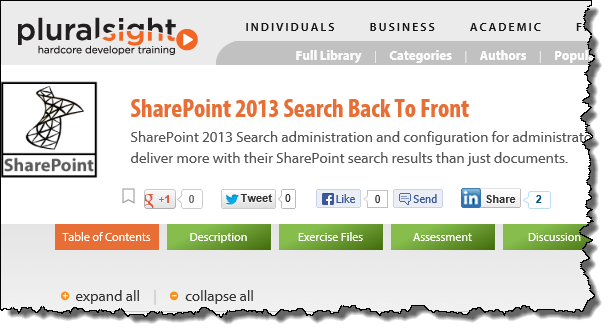 The Course
This course is intended to deliver a SharePoint Search education for beginning and intermediate SharePoint Administrator. Targeted at SharePoint 2013 Farm Administrators and Site Collection Administrators, it will help users who are attempting to provision, configure, manage and customize the SharePoint 2013 Search Service Application and Search Center. Matthew provides sufficient detail for the student to follow the demonstrations to complete a Search configuration and resolve issues with tested troubleshooting techniques.
I'd love any comments, questions and even criticism sent my way!