Way back in SharePoint 2007 there was a great feature on the Search Settings for each User Profile property page called Alias. The field description states:
"Alias properties are treated as equivalent to the user name and account name when searching for items authored by a user, targeting items to a user, or displaying items in the Documents Web Part of the personal site for a user. Alias properties must be public."
One side benefit of marking a User Profile Property as Alias is that a search for that property would return the users profile as if you had entered their Name or E-Mail address. This was a great benefit in organizations where proper names are listed in Active Directory yet the employees go by alternate forms or nicknames. For example create a Nickname field for users to enter "Also Known As" names to make it easier for colleagues to find them: "Tom Clancy" is listed as "Thomas Clancy", "John Grisham" goes by "Jack" to his friends, or "Matthew McDermott" goes by "Matt" or "that SharePoint Dog guy".
The improved Phonetic Name Matching features in SharePoint 2010 reduce the necessity of the nickname field, though there are still times when it is required, for example for maiden names and other legitimate aliases. Other popular uses are to equate a separate identity like your Twitter handle to your user profile.

In 2010, it appears, that this association is not made automatically. In order to duplicate this scenario, you need to create a new User Profile Property, populate it with at least one value on one user profile and then perform a crawl. Once that is complete you should be able to locate the newly crawled property in the Managed Properties | Crawled Properties | People category. (Or simply search for it.)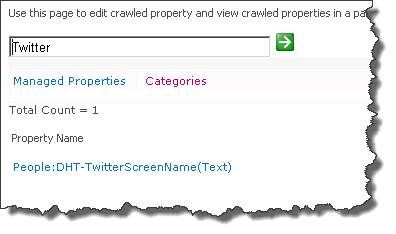 Click the property name and add a Mapping to the Managed Property RankingWeightName. Choose OK and perform another crawl of the content to force the indexer to gather the values and associate them with the managed property.
Finally, perform a search on the People page for the value, in my case MatthewMcD.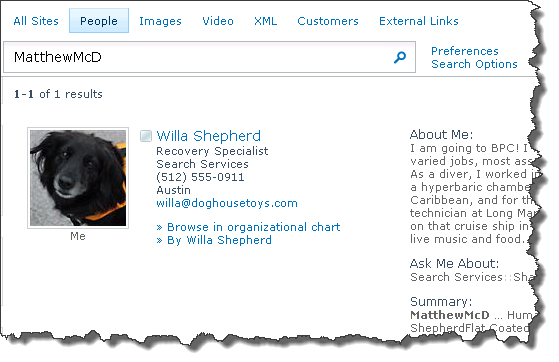 You can view the other properties that are associated with this alias concept by Editing the RankingWeightName managed property directly.