I am pleased to announce that I will be teaching Configuring Hybrid Workloads for SharePoint and Office 365 for the World Education Alliance, this partnership of amazing training companies includes Combined Knowledge, Mindsharp and Critical Path Training, the world-wide leaders in SharePoint and Office 365 Training. The course consists of 9 modules and hands on labs covering the most popular Hybrid topics, including:
Domain Preparation
Azure Active Directory Synchronization
Hybrid OneDrive and Sites
Hybrid Search and On-Premises Search Configuration
Hybrid Taxonomy
Hybrid Extranet and External Sharing
Hybrid Self-Service Site Creation
Hybrid Auditing
Monitoring and Troubleshooting the Hybrid Configuration
The course will be presented online June 5th-7th for EMEA time zones and June 12th-14th for US time zones. You can connect from anywhere and get 10% off with the code: RubysDad
If you don't have three days, or you are just interested in the highlights and demos, you can join me in Haarlem in June for the Workshop: Configuring the SharePoint Online Hybrid Workloads. This is a full day workshop in Haarlem, Netherlands June 19th at Office 365 Engage! You can get a 20% discount with the code SPRMM464.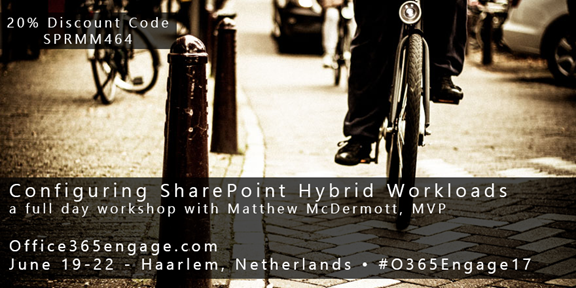 I am very excited to be bringing this content to courses and conferences in 2017 and 2018. I am also thrilled at the labs and the features that the course and workshop covers. As far as I know, no other course is as comprehensive and CURRENT! What's more, as Microsoft rolls out new hybrid capabilities, I'll keep the course fresh and current, adding new lectures and labs.
How About Free Webinars
Join me for a day or three days (or both!) for a trip around the hybrid world of SharePoint and Office 365. Learn what it takes to prepare for and deploy these exciting features and capabilities. Then, actually do it, in class! I'd love to see you in class.
Still reading? Still not convinced? How about two free webinars? Combined Knowledge is sponsoring two free webinars covering:
Office 365 SharePoint Hybrid Update
10th May 2017 10am EDT
You have heard of Office 365 and Hybrid, but what business problems does it solve. How can you best plan and deploy the Office 365 Hybrid workloads? Join us for a session that answers many of these questions. With discussion and demonstration of the benefits of connecting your on-premises SharePoint farm to Office 365 and SharePoint Online, Matthew will walk through implementations of the various hybrid workloads and detail "What's in it for you" from a business perspective.
Configuring SharePoint Hybrid Search and Taxonomy
24th May 2017 10am EDT
This demo filled session will review the latest advances in SharePoint and Office 365 Hybrid Search and Taxonomy. Matthew will demonstrate how to create powerful hybrid search experiences that include SharePoint, File Shares and BCS results both on premises and in Office 365. You will learn what is required for hybrid search and taxonomy configuration and what you should consider when crafting your hybrid search environment so that your end users can find what they seek no matter where it is stored. Matthew will show how, through the use of a single unified source for your taxonomy, you can create efficiently tag and find content where ever it resides.
Well, there you have it. I am eager to see what folks think of these capabilities and my course teaching you all about it!